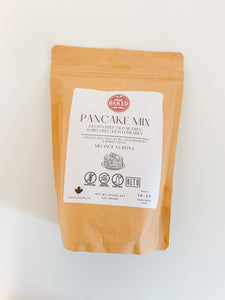 Gluten-free, dairy-free, sugar-free and keto friendly- talk about freedom!
These pancakes are fast, fluffy, and fantabulous. Made with whole food ingredients, no preservatives, and a whole lotta love, you'll be adding these to your morning ritual. Oh, and kids LOVE these pancakes - we can't keep any for ourselves with our toddler around.
Makes 3 batches of 6 pancakes
Ingredients:
Organic coconut flour, almond flour, arrowroot flour, monk fruit/erythritol blend, baking powder, ground chia, ground flax, xanthan gum
Contains: Almonds, Eggs (added by you!)
May contain peanuts*
*The ingredient manufacturers produce other products containing these ingredients in their facilities and therefore we cannot guarantee the absence of these allergens.