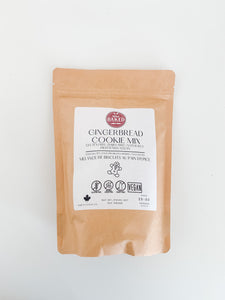 Gluten-free, dairy-free, and refined sugar-free! They also happen to be vegan!
We are so excited to launch this gingerbread cookie mix! Not only does it make SO many cookies (25-30) but all you have to do is add just TWO ingredients (maple syrup and coconut oil). They are so good you wouldn't even guess they are free of gluten, dairy or refined sugar! The recipe is wonderfully spiced and leaves your kitchen smelling of the aromas of ginger, clove, and nutmeg. 
Makes 25-30 cookies.
Ingredients: 
Almond flour, arrowroot flour, tapioca flour, ginger, cinnamon, nutmeg, clove, baking powder, sea salt.
What you'll need:
Maple syrup
Coconut oil
A mixing bowl
A baking sheet with parchment or a silicone mat
A cookie cutter 
 Contains tree nuts.
May contain peanuts* 
*The ingredient manufacturers produce other products containing these ingredients in their facilities and therefore we cannot guarantee the absence of these allergens.