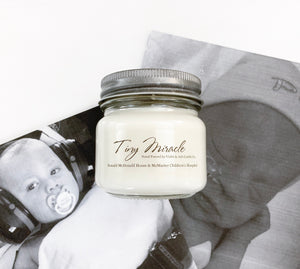 In support of the Ronald McDonald House Charities and the McMaster Children's Hospital, we have come up with a LIMITED EDITION candle which will act as a memorable keepsake for the families that are having to spend their holiday season under a roof that isn't considered home. 
By purchasing this candle, you are giving a physical donation (rather than monetary) to a family that is currently residing at either of the above mentioned facilities. 
All candles purchased via your donations, will be hand delivered to the Ronald McDonald House and the McMaster Children's Hospital for families to open on Christmas morning. 
Should you be interested in donating more than the $10 candle price, please add additional candles to reach your donation limit and they will be handed out to families accordingly. 
Please consider donating to a cause that has affected and assisted so many families in their individual times of need.