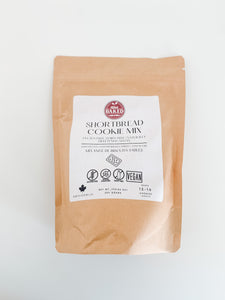 Gluten-free, dairy-free, naturally sweetened, and vegan shortbread dry mix! 
These shortbread cookies are so good you won't believe they aren't filled with butter and sugar. We've found the perfect combination of flours and coconut oil for a light and flavourful shortbread - perfect with an afternoon tea or coffee. 
Makes 12-16 cookies.
Ingredients: 
Organic coconut flour, almond flour, arrowroot flour, vanilla powder, monk fruit/erythritol blend, xanthan gum, and sea salt.
What you'll need:
Maple syrup
Coconut oil
A mixing bowl
A baking sheet with parchment or a silicone mat
 Contains tree nuts.
May contain peanuts*
*The ingredient manufacturers produce other products containing these ingredients in their facilities and therefore we cannot guarantee the absence of these allergens.