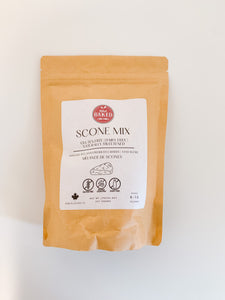 Gluten-free, dairy-free, and naturally sweetened!
Our scone mix has been a fan favourite with tons of variations since we launched. Now you can get the base mix to make any creation you fancy! From sweet mixed berry and apple caramel to savoury chive and bacon - the world is yours. 

Makes 8-10 scones.
Ingredients: 
Almond flour, arrowroot flour, coconut flour, baking powder, baking soda, sea salt.
May contain peanuts.